The Japanese Evangelical Missionary Society (JEMS) is a interdenominational, para-church organization that works with local churches to serve and minister to the Japanese and Asian-American community in the U.S. and around the world. Specific areas of ministry include: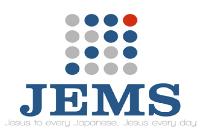 Mount Hermon Summer Camps



Music Ministry



Sports Ministry



Campus Ministry (AACF)



Japan Missions



South America Missions



Short-term Missions

We are very grateful for the opportunity to serve in Japan under JEMS. To learn more about JEMS, please visit the JEMS homepage at www.jems.org.