Issue 41- September 2005
Dear Praying Friends,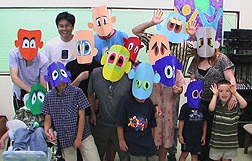 Hello again from Japan. Traditionally, the summer months are a bit slow at SIBC. But that wasn't the case this year. We had a couple of special events in late-July and August that allowed us to reach out to many new people.

ADVENTURE UNDER THE SEA
First up was an outreach event that we called "Adventure Under the Sea." Building upon the success of our Children's Easter Parties, we decided to hold another event geared towards reaching the friends of the children in the church. Headed up by Wez and Lauren, a young Australian couple in the church, we had an afternoon of fun centered around an ocean theme. In the weeks prior to the party, Wez taught a series of workshops on storytelling, puppetry, mask making and mime. The people of the church then put their newly learned skills into practice as they told stories with a biblical message. About 50 people attended the party, including many first-time visitors to the church.

CERRITOS TEAM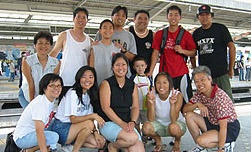 Next up was a short-term mission team from Cerritos Baptist Church in the Los Angeles area. Though they were only with us for 2 days, they provided the backbone of an outreach we had in the park. First, the team led a time of crafts for the small children, a basketball clinic for the older kids and a hula lesson for the adults. This was followed by a Japanese-style BBQ dinner. After eating, we had testimonies, songs, more hula and a powerful drama presented by the team. We ended the evening with fireworks by the canal. We were hoping for an attendance of 40 people or so, but it turns out that almost 90 came! This is great and we are thankful to the Lord for these many new contacts, but we didn't have nearly enough food! Chris had to hop on her bicycle and make an emergency food run to the supermarket. Even then, many people were unable to eat. However, everyone seemed to have a good time and we are thankful for the Cerritos team and all of their help.

HOLINESS YOUTH CHOIR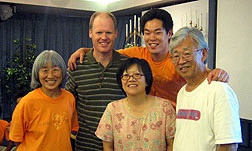 A few days after our BBQ in the park, the Los Angeles Holiness Youth Choir came to town. As the choir consisted of over 40 people, we decided to have a joint event with our sister church (International Bible Church) in Osaka City. About 12 members of the choir stayed in the homes of people at SIBC and then attended the worship service in the morning. Although they performed for us during the service, the real treat was in the afternoon. We all went up to IBC and met up with the rest of the choir for a wonderful gospel concert. This was the first time for SIBC to help host such a choir, and many of our people were greatly blessed by the group's performance and testimony. For us, personally, it was also an encouragement to see some good friends from home.

PLEASE PRAY
We ask that you would please pray for the many people who came to these three events. May the Lord be working in their hearts and drawing them to Himself. Please also pray that the church would be able to continue reaching out to these folks with the good news of Jesus Christ.

COMING SOON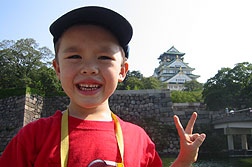 While you are at it, here are two more things to keep in your prayers. First, we are planning to have a baptism ceremony in late September. Please pray for Mr. Ueda who has recently decided to believe in Jesus. Also, please pray for our next Coffee House outreach on October 10th. Pray specifically for those who will be performing and sharing testimonies at this event. May the Lord use them to speak of His wonderful love for those who do not yet know Him.
As always, thank you for your many prayers.
Blessings in our Lord Jesus,





Michael & Chris Mason