* If you prefer, you can see a .pdf version here (2.65 Mb).

Issue 61- September 2011
Dear Praying Friends,

It is time for another update from the ministry here in Japan. We were planning to get this newsletter out last month, but a computer crash wiped out everything on our hard-drive. If you have ever experienced that, you know how this has a way of bringing everything to a grinding halt. Anyway, with everything back in working order, we are finally ready to report to you.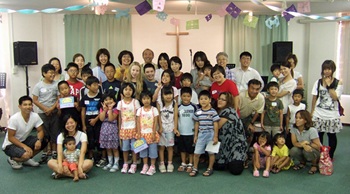 SUMMER BLESSINGS AT SIBC
We had a really good summer at Sakai International Bible Church. In late July a short-term team from Cerritos Baptist Church in Southern California came to help out for a few days. As always, it was a great encouragement to us to have them here. On July 31st they participated in the Sunday morning worship service, and on the following day they helped out with a children's outreach event at the church. The event was called Kid's Bible Fiesta, and was geared towards kindergarten and elementary school kids.

We started out at the church with songs, crafts, games, skits and a Bible lesson. The theme of the day was from 1 John 3:1 "How great is the love the Father has lavished on us, that we might be called children of God!" We then moved the event to the park down the street. There we ate picnic dinner together, followed by more games, singing, and watermelon smashing (a traditional Japanese summer game). The turnout was much better than we were expecting. We had over 20 children (and their parents) with almost half coming from outside the church. PLEASE PRAY for those who heard the Gospel for the first time. May they each experience the love that their heavenly Father has lavished upon them. Finally, we want to give a big shout out to Fife Young for all of her hard work in coordinating this event. Thanks Fifi!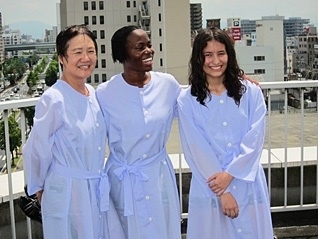 The following weekend, the blessings continued at SIBC as we had another baptism celebration on the roof of the church. This time, three people took this step of obedience and expressed their desire to walk with Jesus all the days of their life. First up was Emily. Emily is a jr. high school student and the daughter of friends that Michael met while studying in seminary. She was just a few months old when we arrived in Japan back in 1997!

Next up was Omara. Omara is from Jamaica and has been teaching English in Japan for a couple of years. She had a wonderful testimony of how God led her to the point where she was finally ready to say "yes" to following Him.

The last person was Takako. Takako first opened up her heart to the Lord after the death of her husband back in 2009 (you might remember, that was Michael's first time to perform a funeral in Japan). Earlier this year she decided to believe and now has a keen desire to grow in her faith. After the short ceremony on the roof, we went back downstairs for a time of celebration, which included a potluck lunch and testimonies. All in all, it was a wonderful day. PLEASE PRAY for Emily, Omara and Takako. May they grow in God's love, God's word and God's power as they continue to discover how to walk with Jesus as their Savior, their Shepherd and their Friend.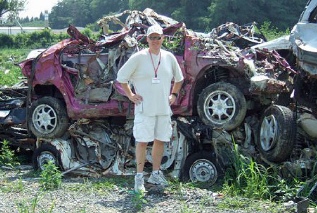 SERVING IN TOHOKU
In our last newsletter we shared about how SIBC had been partnering with a group in Osaka called Be One Tohoku. Since the March 11th earthquake and tsunami that hit the Tohoku region of Japan, Be One has been sending supplies and workers to the disaster stricken area. Well, in August both Michael and Chris had the opportunity to go to Ishinomaki City in order to help out with the on-going relief efforts. Michael went for a few days in early August and Chris followed about 2 weeks later. We are both very thankful for the opportunity to serve in this way, and though Tohoku is quite far (a 12+ hour drive), we are both hoping to go again this Fall. You can read some of our experiences here (Chris) and here (Michael).

FALL ACTIVITIES
With the arrival of September, Luke started 5th grade at Kansai Christian School. Even though he is the only boy in his class this year (with 6 girls), he is excited to finally be in middle school. This year Michael is taking a break from serving as the school chaplain. Although he enjoyed being able to share with the kids each month, he feels that he needs to devote more of his time and attention to the ministry of SIBC.

Speaking of church, in September we started a new sermon series called "Re-Thinking Church: Exploring God's Heart for the Church." In a desire to grow and truly become the people that God wants us to be, we are planning to take the next 6 months to look at what it really means to be the church. We believe that God has a wonderful journey prepared for us and are excited to see where He might lead us. PLEASE PRAY for the whole SIBC church family during this time. May we all have open hearts as we study God's word and open ears as we learn to listen to His voice.



Finally, PLEASE PRAY for Chris as her schedule this Fall is looking pretty full. Besides her English classes, the women's Bible Study she teaches for the women in Ikoma, the women's prayer meeting and mother's support group at church, Chris has also recently offered to help Be One with their homepage. Chris will be responsible for collecting testimonies from those who serve with Be One and then finding someone who can translate them (either from English to Japanese, or Japanese to English). These will then be put on the Be One website as a way to build community and recruit new volunteers.

Well, as always, thank you for your prayers and support. God is at work in Japan, and you are an important part of the lives that He is touching.

Blessings to you all,



Michael & Chris Mason